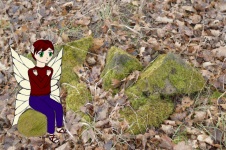 Fairy
New job and new place, it feels like a habit. It's a bit tiring and makes it hard to make friends. But you get to see new places and despite the sudden cold you enjoy discovering this new city and maybe this time will be different from the usual.
Fairy is a short, kinetic (no choices, one ending) visual novel I made for NaNoRenO 2015. I hope you will like it. (:
denzil
Written by, graphics: denzil
Music: Hobby Atelier Carrot Wine
Languages: English
download
:
[
Windows, Linux, Mac OS X zip (38 MB)
]
[
Android (23 MB)
]
---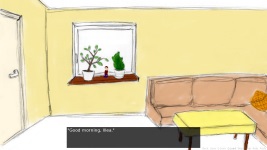 Fairy: ~Shopping Day~
Yesterday you met a fairy named Illea and become friends. Today you will spend your first day together in the city you moved to.
Fairy: ~Shopping Day~ is a short, kinetic (no choices, one ending), slice-of-life visual novel I made for NaNoRenO 2016 as a sequel to the first Fairy story. Enjoy. (:
denzil
Written by, graphics: denzil
Thanks for help to lordcloudx
Music: T. M. Bach
Languages: English
download
:
[
Windows, Linux, Mac OS X zip (37 MB)
]
[
Android (20 MB)
]